The Hobart City Mission has successfully purchased the former Congregational Church, 47 Davey St, for its Safe 'Night' Space program. Safe Space provides beds, food, shelter and support to those who are sleeping rough around Nipaluna/Hobart and is run through the Hobart City Mission. The purchase of the landmark building comes after much uncertainty around Safe Space's future home, which also previously found itself at the Youth Arts and Recreation Centre on 44 Collins St. Hobart City Mission have been leasing 47 Davey St since August last year, with the property first hitting the market for sale this March.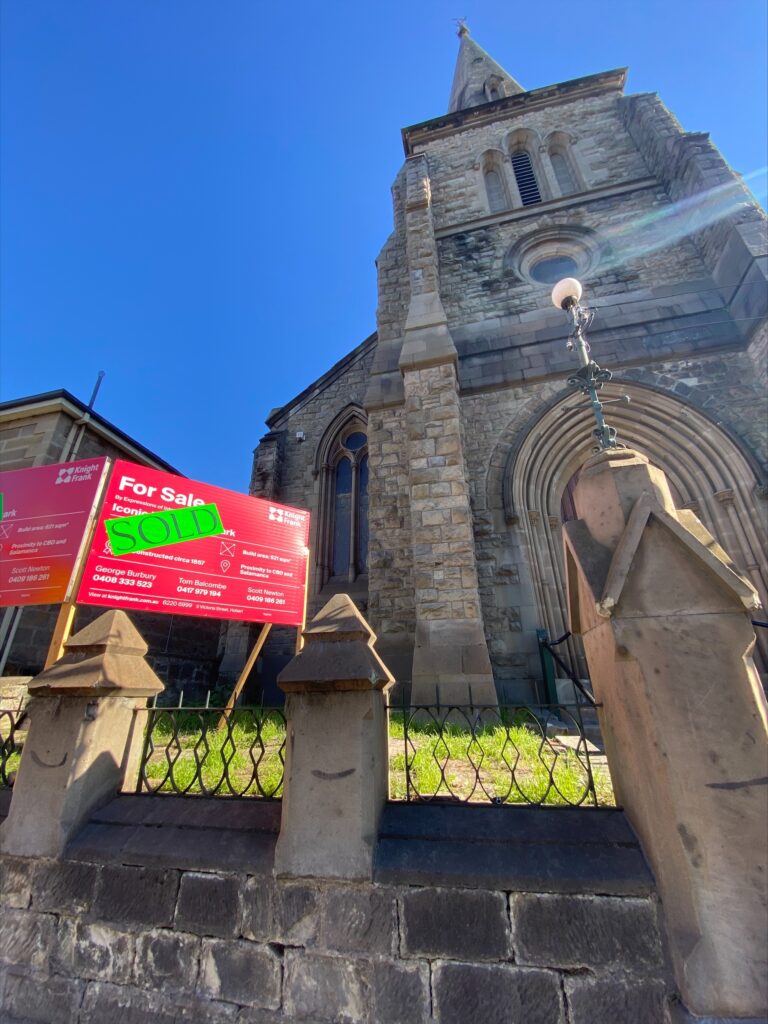 Harvey Lennon, CEO of Hobart City Mission (HCM), notes that its latest purchase of 47 Davey St, paid for partially by "generous local donors", provided much needed certainty for those most affected by Hobart's housing crisis. "There have been lots of changes to Safe Space since it first launched", Lennon cites "moving locations" and "uncertainties in continued funding" as just some of the difficulties the program has faced. Lennon says that "despite all of this we've never once closed doors- we've always made sure there is a place for people to sleep, have a meal, and connect with us."
Bella Windfeld-Petersen who heads HCM's communications division, told Togatus that "people who have been using Safe Space have been enjoying the church location" and that this latest news has "thrilled" them. She says that some users of the service were "anxious" about the for sale sign that had loomed on the church for the last few months. Since its opening Safe Space has provided 12,000 beds to over 500 people who otherwise were at a high risk of sleeping on the streets, with a significant proportion supported to move into longer-term housing.
The purchase has also led to an expansion of the program, which will provide an extra 15 beds every night for those experiencing homelessness. Previously, the HCM say that there were waiting lists for the emergency shelter, which before its purchase could only house 20 people a night. The expansion of 15 beds per night will see an assurance for those utilising the program that they will not have to endure Hobart's notoriously chilly winter this year around, that they will have safe and clean accommodation. The State Government, for now, has also funded an expansion of staff, food and equipment every night to assist the program. However, its funding is set to be capped this coming June, with negotiations to be made in conjunction with the State Government at this time. Although Lennon says he is "hopeful" around the continuance of the program.
People in the community can support Safe Space by donating food, bedding, sleeping bags and clothing. Windfeld-Petersen says that although Safe Space is government funded, financial donations to HCM also help people who are facing homelessness through their Emergency Relief Fund program. Safe Day Space continues to operate out of 50 Barrack St, 8am-6pm, every day of the year and runs as a drop in service. This site provides food, connections to services and warm place to stay during the day. Night Space will continue from 47 Davey Street, and can be accessed by those in need with a referral from Housing Connect, who are available to chat on 1800 800 588.